Abbey Credit Union is now offering Digital Wallet pay through Apple Pay, Samsung Pay, and Google Pay.
Checking out at the grocery and left your wallet at home? Relax; you can still pay your way! Dig out your phone, select the mobile wallet app of your choice, thumb out the amount you owe and pay the cashier. Or, just hold out your watch until the payment clears. Checkout, done!

Mobile wallet apps keep your information secure by using tokenization, which creates a one- time security code for each transaction and protects against data breaches.


Here's what you need to know about paying with each of these mobile payment apps:
Apple Pay
Apple Pay allows you to pay for purchases online and in retail locations using credit and debit cards already stored in your iPhone's Wallet app. If you have an iOS 11, you can also use the service for peer-to-peer (P2P) payments through iMessage.
Accessibility: Apple Pay is available on all Apple Watches and Apple mobile devices that are as recent as the iPhone 6, iPad Air 2, iPad Pro or iPad mini 3. Apple also works with select Macs as long as there is an Apple product nearby. MacBooks with Touch ID can use Apple Pay directly without the assistance of an Apple products. If you have an Apple device with iOS 11 and you'd like to use Apple Pay for P2P payments, any money you receive will be deposited into your Apple Pay Cash card, which works like a prepaid credit card. You can then use this money for spending through Apple Pay or deposit it into your checking account.

Where it works: More than 4 million locations in the U.S. accept Apple Pay, including GAP, Starbucks and Trader Joe's. There are also hundreds of financial institutions and payment providers that accept Apple Pay.

Security: In addition to the security provided by using NFC and tokenization, Apple protects your money by requiring you to authenticate your device with Touch ID, Face ID or a PIN whenever you attempt to make a payment through the app.
Samsung Pay
If you have a Samsung Galaxy device, you'll want to use Samsung Pay. This wireless payment app is the most widely accepted mobile wallet on the market.
Accessibility: You can use Samsung Pay with all Galaxy devices, including the Gear S2 Sport, Gear S2 Classic, Gear S3 Classic, Gear Sport and Galaxy Watch.

Where it works: Samsung Pay is unique among mobile wallets thanks to its ability to work with both NFC-enabled terminals and the more common magnetic-strip terminals, or MSTs. As Samsung promises, wherever you can swipe a card, you can use Samsung Pay.

Security: Before you use Samsung Pay, you'll need to do an iris scan, fingerprint or PIN.
Google Pay
If you have an Android device, Google Pay is a great way for you to pay for your purchases and send money to your friends.
Accessibility: You can use Google Pay on any NFC-F-enabled Android device running Lollipop 5.0 or higher.

Where it works: Google Pay is accepted in millions of stores, apps, and websites. To check if a vendor accepts Google Pay, look for these symbols: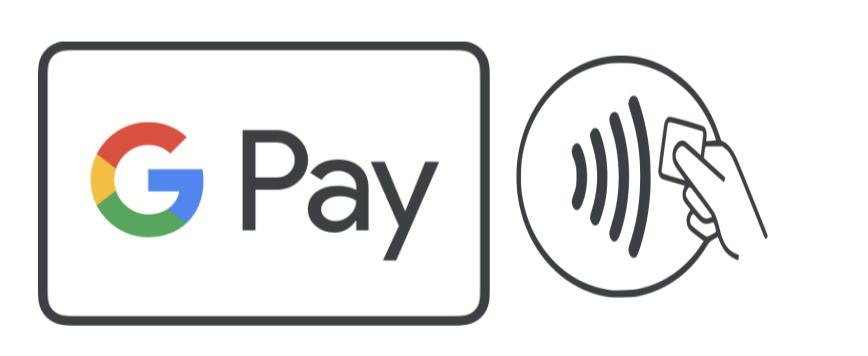 Security: Google Pay uses one of the world's most advanced security infrastructures in the world to help keep your account safe. When you use Google Pay to protect your payment info with multiple layers of security, When you pay in stores, Google Pay doesn't share your actual card number, so your information is always secure.